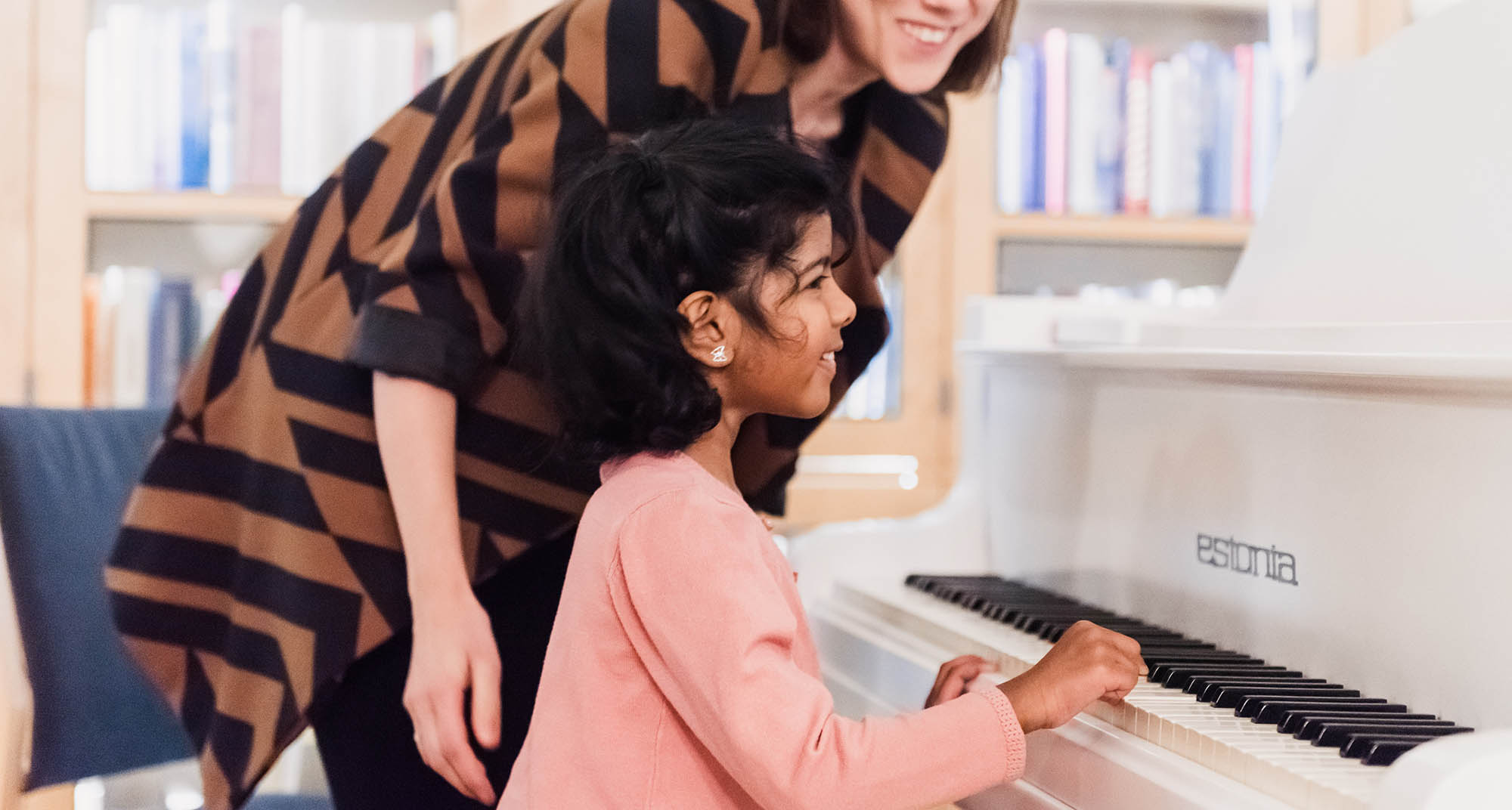 Lessons
We offer private, individual lessons or group lessons with educated and professional teachers who all speak English as well as many other languages. Lessons are intended for music enthusiasts of all ages and skill levels, and there are no entrance exams. If you are interested in having lessons with ISM Finland, you can contact us or fill in our application form on Eepos, our online portal. Please note, students can enroll at any time of the year and we will adjust the price according to the number of lessons they receive. 
We also offer Music Playschool lessons for children aged 3-6. Information about those lessons can be found here.
The Autumn semester consists of 15 sessions and the Spring semester consists of 17 lessons. Lesson fees per semester include the weekly lessons, an end of the term concert (last lesson being the concert) and smaller recitals upon request.
Instruments
Lessons are offered in:
Piano
Violin
Cello
Voice (pop, classical, jazz)
Flute
Recorder
Clarinet (classical, klezmer, world music)
Saxophone
Guitar (pop, jazz, classical)
Drums
Trumpet
French Horn
Djembe
Cajón
Pan flutes
Harp
Ukulele
Cuatro
Setar
Charango Accompaniment
Pre-instrumental groups
Music playschool 'muskari'
Theory (ABRSM)
If you are interested in band music, choir, chamber or other ensemble playing, please let us know.
Renting/Buying Instruments
We are happy to help students in buying or renting instruments, and we also have our own small stock of instruments available for hire. Please contact your teacher or our office for more information.
PRICING
Lesson fees per semester include: weekly lesson, end of the year concert (with the last lesson being the concert) and smaller recitals upon request. 
Individual lessons
                                                           Autumn 2018            Spring 2019 
Length                1 lesson trial            (15 lessons)              (17 lessons)
20 min                        20€                         300€                         340€
30 min                        29€                         435€                         493€
45 min                        41€                         615€                         697€
60 min                        54€                         810€                         918€
Group lessons (45 mins, price is per student)
                                                            Autumn 2018            Spring 2019 
Length                    1 lesson trial          (15 lessons)              (17 lessons)
2 students                    26€                      390€                           442€
3 students                    18€                      270€                           306€
4-10 students               16€                      240€                           272€
We also offer theory lessons for all students. Students will be grouped as best as possible by age and theory knowledge. We teach the ABRSM theory curriculum and students are encouraged to take part in the annual theory exam.
Individual Theory lessons
Length          1 lesson
30 min              23€
45 min              34€
60 min              46€
Trial Lessons
It is possible for students to have a trial lesson on the instrument of their choice with no obligation to continue lessons should they not enjoy the trial lesson.
All trial lessons must be paid for in full prior to the arranged lesson time. The fees for individual trial lessons are listed below as above:
Length          1 lesson
20 mins             20€
30 mins             29€
45 mins             41€
60 mins             54€
Registration fee 20€. Cancellation fee 50€. Please email nanna@ismfinland.org about paying in installments 
School Guidelines
Teaching begins on the 8th January 2018 for the Spring term. There are 14 lessons in Autumn and 17 lessons in Spring including the end of the term concert. The application and withdrawal processes is done through Eepos, our online portal. Cancellations should be done at least a week before the start of the term. Teaching for current students begins automatically for the Spring term 2019, so a new application does not need to be filled out after the end of the Autumn teaching term. We unfortunately cannot refund students who drop out mid term as we are committed to pay the teachers for the whole term. We accept students during the term, after the term has started. The rate will be calculated for the remaining lessons for the term. Please consult nanna@ismfinland.org for this. Private lessons are provided by professional teachers in English, Finnish and many other languages.
ENROLLING FOR LESSONS:
We will need an application form from each student before the lessons start. We will ask for some personal information which will not be shared. We will use the email address on the application form for invoicing and communication with you by newsletter. Please inform us of any changes to your email address. We will also take photos during the term of our students so please let us know if you do not give permission for this by stating it on the application form. We will not need a new application form for the students continuing from Autumn term to Spring term. However, we will need a new application form at the start of every new school year.
LESSONS:
The teacher is in charge of the content of the teaching. The goal for the school year will be planned together with the student. The teacher will communicate and keep a teaching diary using Eepos and update the student's homework book for each lesson so that parents may follow their child's progress.
COMMUNICATION:
Information during the term is communicated with newsletters, through our Facebook page, and on the website. Please follow these as there is important information regarding the term's events. Teachers will keep students informed of dates for these events well in advance. The student/parent is responsible for the student's participation in lessons and informing the teacher of any absences.
INSTRUMENTS and LESSONS:
Each student needs their own instrument for practicing purposes. A practice book is recommended in which the teacher will make notes after each lesson for homework practices. Practice at home is essential for improvement. Instrumental teachers will advise students on purchasing their own instruments and other age-specific requirements. Some instruments can be rented from ISM, if needed, by contacting their own teacher or ISM's principal. However, there are a limited number of instruments for rent.
ABSENCES:
The student/parent is responsible for the student's participation in the lessons and informing of any absences of the students in advance. Please keep the teachers contact information on hand. If a teacher is absent for any reason, the lesson will be made up at a time agreed upon by the teacher and student. If the student is absent, the lesson will not be made up or refunded, unless the student has given the teacher prior notice. It is then up to the teacher whether or not to make up the lesson.
INVOICES:
Invoices are sent during the first two weeks of teaching each term. The invoice is sent to the email given in the application form at the beginning of the term. Please check your email inbox and spam folder for messages, as ISM is not able to take any responsibility for messages lost in spam mail. Please let us know of any changes in your email addresses. There will be a late fee charge of 5 euros plus 7% annual interest fee, every two weeks of a late payment. Invoicing is done by Visma Duetto invoice service; however, all enquiries regarding lessons can be addressed to nanna@ismfinland.org.
TERMINATION:
Please inform us by email at least a week before the new term starts if you wish to cancel music lessons. If we are informed less than a week before teaching commences, we will charge half a term's fee. If we are informed after the lessons have started, we will charge the whole term's fee. Please contact the coordinator for any concerns regarding the above or any other matters.
Links to School Info and Academic Calendars:
Käpylä Spanish School
European School of Helsinki
Finnish-American Kindergarten
International School of Helsinki
Jules Verne
Ressu