Your Musical Home in Finland
The International School of Music Finland offers lessons to students of all ages and levels. Start lessons any day!
Music lessons with no entrance exams, starting any time
Our autumn semester is in full swing, but we still have room for you!
All students of individual lessons are welcome to have a trial lesson on their preferred instrument before signing up for a semester. Click on your preferred lesson location below to check instrument and group availability and then visit our web shop and send us a message to set up a trial lesson.
New Group Lessons!
We are offering 20+ group lessons, which include pre-instrumental lessons for beginners, instrumental lessons for children, and group music lessons for adults. Click on the links below for more info!
Helsinki
Piano Group for Beginners
Thursdays 17:30-18:15
Guitar Group (Adults)
Thursdays 18:00-19:00
….
and many more groups
Espoo
Choir
Choir for children ages 8-12 at Espoo International School
Piano Group
Thursdays 18:00-18:45 at Espoo International School
We Provide the Following Music Lessons: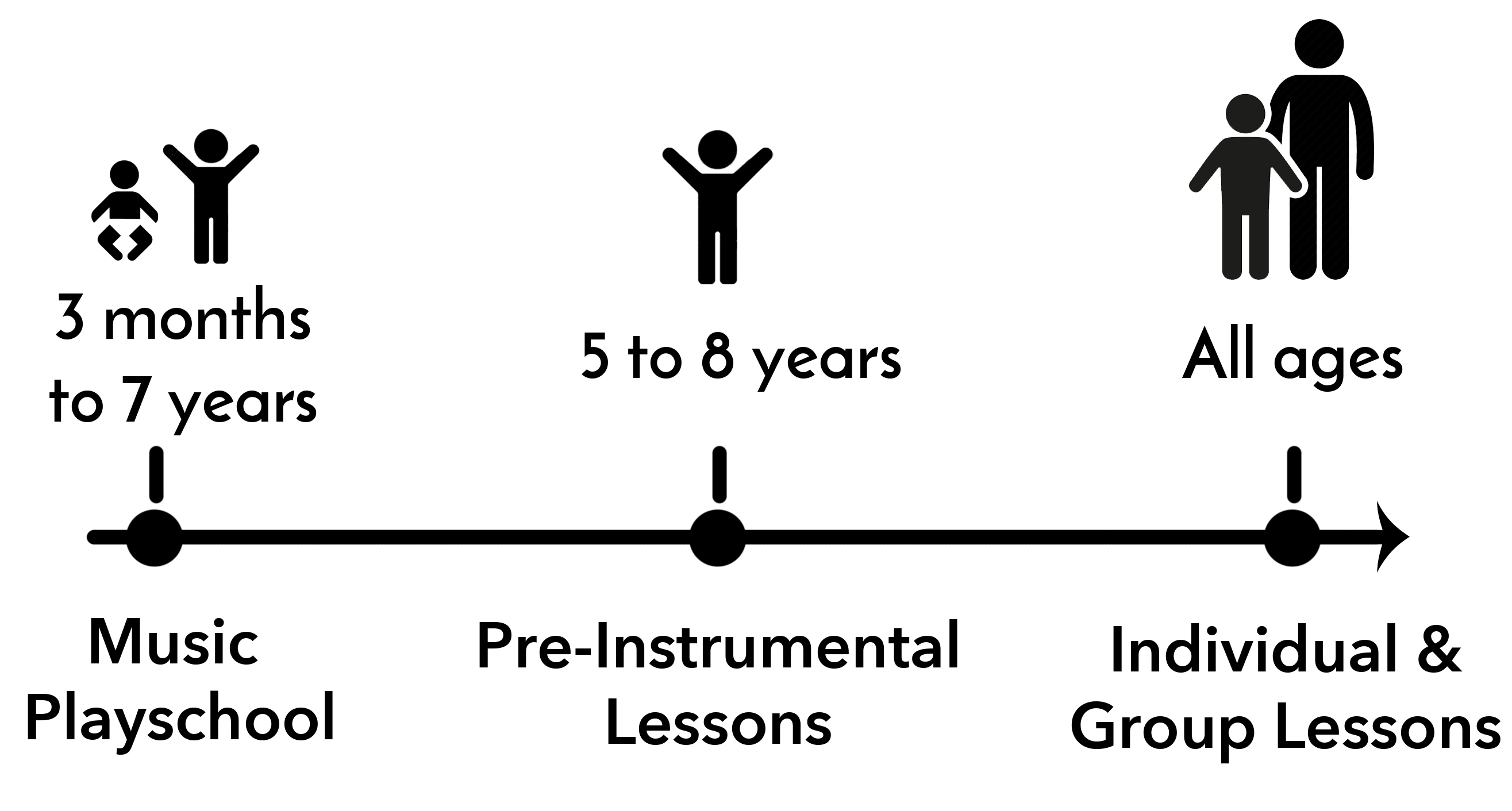 Music Playschool
Ages 3 months – 7 years
In Music Playschool, we foster a lifelong love of music through group lessons for children where we sing, rhyme, play, listen, move, dance and make music together.
Pre-Instrumental
Ages 5-8
In Pre-Instrumental lessons, we introduce children to the basics of musical notation, rhythm, and instrumental performance in a fun and encouraging group setting.

Our vision is to create an international and diverse musical community for expat families and others who are interested in experiencing a multicultural environment through high-quality music education.
ISM is a registered non-profit organisation with a Teaching License (laaja ja yleinen opetuslupa) from the cities of Helsinki and Espoo and is part of the Association of Finnish Music Schools (Suomen musiikkioppilaitosten liitto).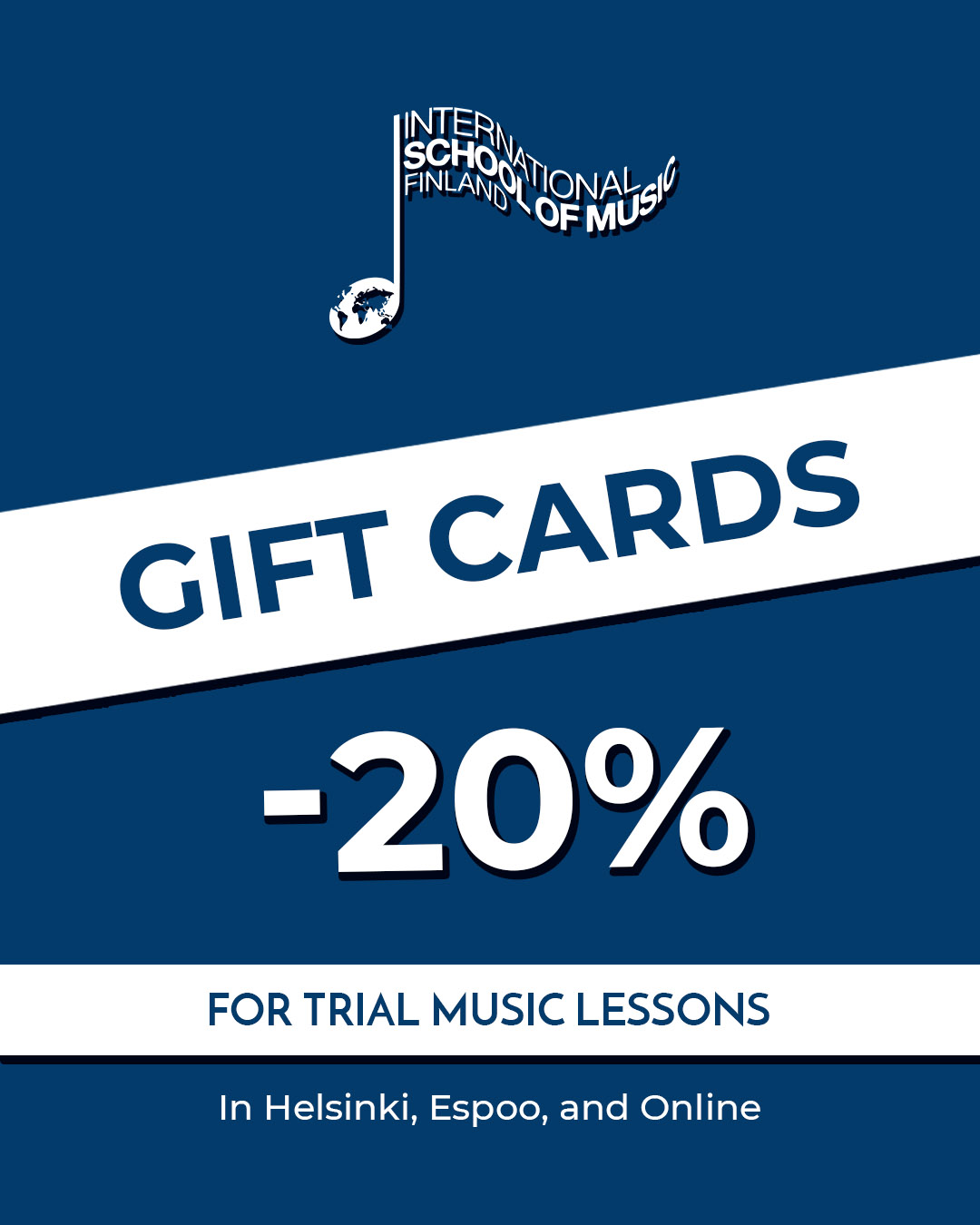 Sale on Gift Cards for Trial Lessons!
Give the gift of music! Our gift cards for a 20-, 30-, 45,- or 60-minute trial music lesson are 20% off until 30.11.23. The gift card recipient can choose their preferred instrument and location for their music lesson.  
Gift cards can be used only for individual trial music lessons. Limit one gift card per recipient per instrument. Additional lessons can be purchased directly from ISM Finland after the trial lesson. Gift cards expire 6 months after purchase. 

ISM Finland is dedicated to providing a safer space for students, teachers, and all others who participate in ISM lessons, events, and workshops, and meetings. We have created the following Safer Space Principles that will be applied in all of our teaching locations:
Do not assume anything about others; instead, ask

.

Avoid making assumptions about sexuality, gender, nationality, ethnicity, religion, values, socio-economic background, abilities, and health.
Discrimination in any form will not be tolerated. Negative comments regarding sexuality, gender, nationality, ethnicity, religion, values, socio-economic background, abilities, or health, and any other comments that can be considered discrimination are not allowed.
Respect the opinions, beliefs, experiences, and differing viewpoints of others. The space should be free of judgmental words, actions, or behaviors that could humiliate, insult, or ridicule another person.
Respect others' personal space. The teaching space must be comfortable for all parties involved, therefore any touching or breach of personal space must be done only with permission and be completely professional.
What to do in harassment situations. If you see a situation where these guidelines are not being upheld, you can intervene directly if you feel comfortable doing so. In other cases, please reach out to the ISM Principal or any of the admin team members.
We believe that music is for everyone and everyone deserves to learn and work in a safe space. You can read the full set of principles in our Lesson Guidelines.
December 1: Christmas Market with Gift Card Raffle
ISM Finland is participating in Carousel Nursery School's Second Chance Christmas Market! Come visit Salmisaaren liikuntakeskus in Helsinki for a nice Christmas party (pikkujoulu) event, where ISM Finland and many other organizations will be raffling great prizes, including several music lesson gift cards. All ages and nationalities are welcome. We look forward to seeing you!
December 10-17: ISM Student Christmas Concerts

ISM students and their families are welcome to the ISM Christmas Concerts to enjoy the results of our students' and teachers' hard work this semester! This year, we have several Christmas concerts taking place, split up into three different days:
Sunday, December 10 at 12:30, 14:00, and 15:30
Who is performing: Students in Helsinki
Where: Töölö Library (Topeliuksenkatu 6, Helsinki)
Saturday, December 16
Who is performing: Selected students from Helsinki & Espoo
Where: International School of Helsinki (Selkämerenkatu 11, Helsinki)
Sunday, December 17
Who is performing: Students in Espoo
Where: Espoo International School (Lillhemtintie 1, Espoo)
Students can confirm with their teachers which concert they will be performing in. We look forward to seeing the results of all your hard work!
Partners
We organise lessons, events, and exams in partnership with the following organisations:
Click below to learn more about what we offer:
Music Playschool Lessons
Ages 3 months – 7 years

Pre-Instrumental Lessons
Ages 5 – 8 years
Individual & Group Lessons
For all ages
Events & Workshops
Upcoming concerts, day courses, and global music workshops